The company's name sake, David E Vernon, established the business in the Centre of Manchester in 1964. The company was relocated a few years later to Stretford from where it became a prominent business in the North West dedicated to the dealing and restoration of instruments of the violin family. In 1989 Paul M Parsons purchased the business from David and continued to develop a growing clientele.
Paul's ability to take an instrument which sound woolly, closed in and distinctly unimpressive and turn it into a clear, resonant and pure-sounding joy to own is second to no-one in this country. Read More
Paul M Parsons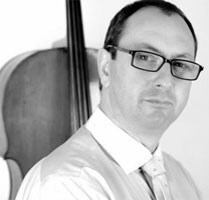 After leaving school, Paul went on to music studies with violin as first study but a fascination of how instruments were made and restored eventually lead him to approach David. At the age of 19 Paul began a career in violin repair and restoration, learning the business in a very busy commercial and workshop environment.
Paul has both the experience and the great sensitivity to really understand artists' wishes, and is able to meet their every need Read more
Since 1989, Paul Parsons has grown the business adapting to the various commercial changes over the years and strengthening ties with our clients old and new. Paul has brought many fine instruments to students of Chetham's School of Music, The Royal Northern College of Music and members of the Halle Orchestra, BBC Philharmonic Orchestra, The Manchester Camerata, The Royal Liverpool Philharmonic Orchestra and many other professional orchestral organizations nationally. Not forgetting many semi-professional and amateur orchestras and ensembles. The shop in Stretford was always a popular meeting place and hub for clients and friends.
Of recent years, there has been growing interest in instruments and bows as alternative investments. Paul has been able to find fine examples specific to the clients brief. To read what Paul's clients say click here.
In 2017, Paul moved the workshop to South Devon in order to continue to restore instruments to the highest standards without the pressures that running commercial premises entails. Working in a more relaxed environment allows Paul to concentrate on fine restoration work and arrange to see clients in Manchester and nationally as well as clients visiting us here in South Devon.
Meeting clients for restoration or sales purposes is strictly by appointment.